Design Principles And Lighting Techniques For Aluminum Alloy Stage Lighting 1
[2019-06-11]
The stage lighting of aluminum alloy is divided into theater stage and variety show lighting, and the main reason is the viewing effect on the scene, but in this also needs to have a certain artistic subjective abstraction, so we need to master certain aluminum alloy. The design principles and lighting techniques of stage lighting are very important. So, let's take a look at the specific design principles and lighting techniques with Mobile Stage Supplier!
1. Theater stage lighting
First of all, we can differently according to the performance of the show, the requirements for Stage Lighting Truss Design will be different. The configuration of the theater stage on the basic luminaires here mainly refers to the basic needs of the opera, dance, ballet, drama, local drama and other performances. The downlight is mainly built with a mirror bulb inside the cylinder or a tungsten bromide bulb in the reflective bowl. Its characteristic is that it can emit a relatively fixed beam, and the beam angle is wide and narrow. However, because the spot size is not It can be adjusted; therefore, the following day row lights, floor row lights and high-power astigmatism lights are all applied by the upper and lower illumination skylights, and the requirements are bright and balanced, so the irradiation area is relatively large; The imaging lamp is either a modeling lamp or an ellipsoid spotlight. The beam angles are divided into many types. The application can be selected according to the needs. The main feature is that the spot can be cut into square, diamond, triangle, etc., or projected. The pattern of various patterns required for the output. The power can also be configured with 1KW, 2KW, etc.;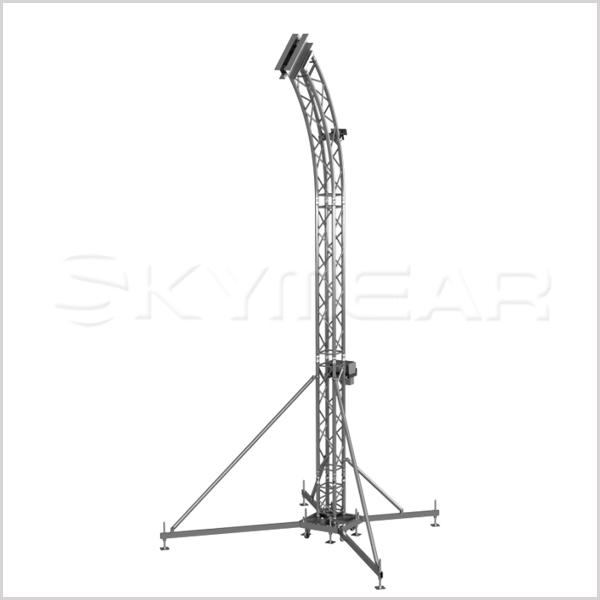 There are also fewer and fewer spotlights used today, because the spotlights used on Stage Lighting Truss Systems use flat-convex concentrating mirrors on the front of the lamp. This luminaire not only adjusts the size of the spot, but also produces a concentrated beam. In particular, the light diffused on the side is relatively small, so there are a variety of powers ranging from 0.5W to 5KW. The focal lengths are long, medium and short, and can be selected according to the distance of the range. The lighting used in this stage lighting is mostly based on a fixed point light source, and then different colors are arranged to achieve various visual effects.