What's the difference between stage truss aluminum raw materials
[2022-05-20]
The difference between stage truss aluminum raw materials: 6061-T6 and 6082-T6
Aluminum stage truss is a commonly used aluminum structure in the exhibition industry. The perfect stage truss construction can better play the role of lighting and sound equipment, and play a more ideal publicity effect. During the performance, most of the audio equipment is suspended on the truss. At this time, the bearing capacity is an important criterion for testing the quality of the truss, and the basis for determining the bearing capacity of the truss is the raw material used - aluminum profiles.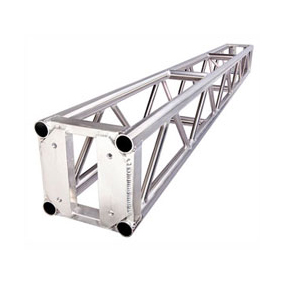 The difference between aluminum raw materials: 6061-T6 and 6082-T6
"6061" and "6082" represent a specific grade of aluminum alloy. 6061 and 6082 are aluminum-magnesium-silicon aluminum alloys (not pure aluminum). "T6" indicates a heat treatment state, or a specific operation method of heat treatment, that is, the billet or workpiece must be subjected to a heat treatment operation of "solution treatment + artificial aging", or it indicates that the aluminum profile is extruded and then subjected to quenching and other treatments to increase its strength. The marked "6061-T6" only means that the part is working in T6 state or machined into parts from T6 state billet.
The point is that 6082-T6 is stronger than 6061-T6 in terms of strength and toughness, so it is more expensive. The survey results show that with the development of the performance industry, the corresponding aluminum stage truss manufacturers have gradually matured, especially the Guangdong manufacturers, which are further ahead of the mainland manufacturers in terms of technology and materials. This is great news for those in the show and exhibition industry.