What are The Main Points of Installing an Aluminum Alloy Stand?
[2019-07-17]
Over time, steel structures have become more popular in recent years, and its stand products are the same. What do you need to know to install Choir Risers? Let's take a look at it today.
Before using the steel structure bracket, it was confirmed that the appearance was not damaged, and there were no obvious creases, chromatic aberrations, dirt, and the like. At the same time, all the joints of the steel structure are guaranteed to have no cracks, no separation and peeling, and no obvious wrinkles. Bolts, washers and aluminum alloy and stainless steel bead have no strain and rust, and the cable and anchor have no coating damage and rust.
Installation point 1: The large steel structure stadium is a rigid frame structure, such as Aluminum Stage, so it is necessary to ensure that the steel link structure is firmly in place and anti-corrosion treatment is carried out to make the quality of the project in place.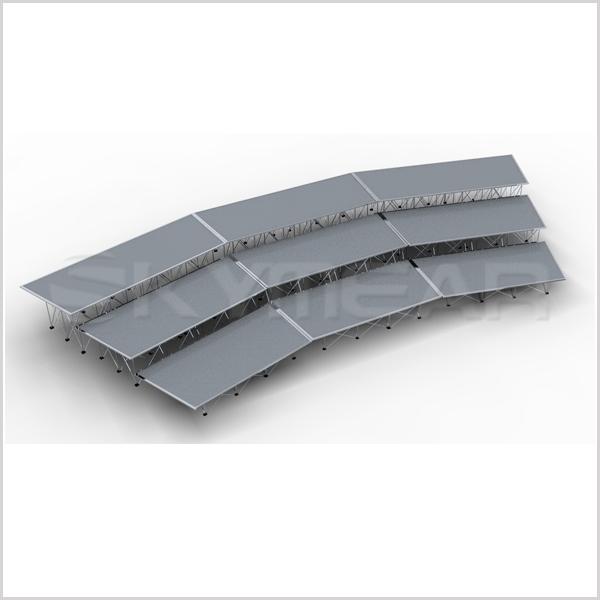 Installation point 2: Steel structure stadium, such as large-span building structure, construction difficulty, long cycle; long service life, large construction volume, construction quality is difficult to control.
Installation point three: steel structure nodes, structural nodes and foundation nodes, these nodes are the key to the formation of steel structures. The joint of the steel structural material is related to the stability of the steel structure, and the steel structural member is subjected to the tensile force. The steel structure relies on this tensile force to form an internal stress to maintain the shape of the steel structure.
Installation point four: Steel structure is now a very popular architectural style, and steel structure is also a model of energy-efficient buildings.
If you would like to know more about Stage Lighting Truss Systems, please visit our website for information: http://www.skymear.com/