What is Lighting Stage Truss?
[2019-03-29]
Do you know what is Lighting stage truss?And do you want to know more? Come here
Lighting stage truss allows lighting designers to hang LED or Automated fixtures, often called "movers" . Lighting stage truss can be found in theater, concert, performance arts, or tradeshows, arenas and stadiums,etc. Anywhere staging equipment is deployed you are likely to find aluminum lighting stage truss.
"Sticks" or sections of the truss can be connected together to create a structure allowing lighting fixtures, video, audio or other staging equipment to be hung with ease. Lighting Truss comes in several different lengths and when connected together, create longer spans or different shapes.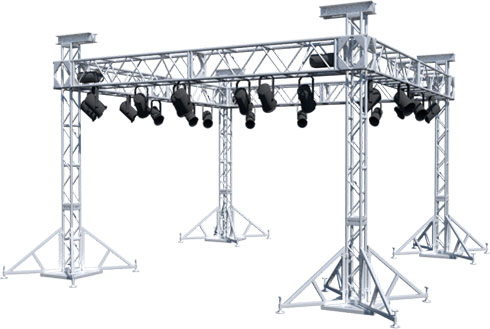 What is Lighting Truss Made of?
The primary materials most commonly used for stage lighting trusses are Aluminum and Steel.
Aluminum, because of its durability, light weight and ease of transport, is the optimum choice for use in concert or stage production. Its weight allows for a quick and easy setup and teardown.
For installations that are permanent such or where high load ratings are required steel truss is the easy choice. No matter what the project, always know the load ratings of your truss and deal with professionals.
What is the Common Sizes?
Lighting truss comes in sectional lengths that may be connected together to create longer spans or different shapes. These truss structures are used to support lighting, audio and video equipment. The most common truss lengths are 1 foot, 5, 8 and 10 feet.
For a complete line of lighting truss sizes and variety look at our Truss Page.