How to Install the Assembled Stage is Safer?
[2019-08-01]
According to the difference in quality and material of the assembled stage, the price of this assembled stage will naturally be different, but we know that no matter what the occasion chooses to use the assembled stage, we need to ensure the quality. Can better guarantee everyone's safety. The most important of these is the installation. So how do we install the assembled stage to make people feel safe? Truss Stand Manufacturer will come to you.
1. Because the assembly stage of the stage tower is very heavy, it is not consistent at the installation height. First of all, we need to consider the overall situation, we need to choose the large steel assembled stage for ground assembly and high-altitude segmentation for installation. Moreover, it is not the same as the ground assembly, because the construction conditions in the high-altitude construction are relatively poor, so the construction safety and assembly stage level, verticality and welding quality control are very difficult during the high-altitude docking process. .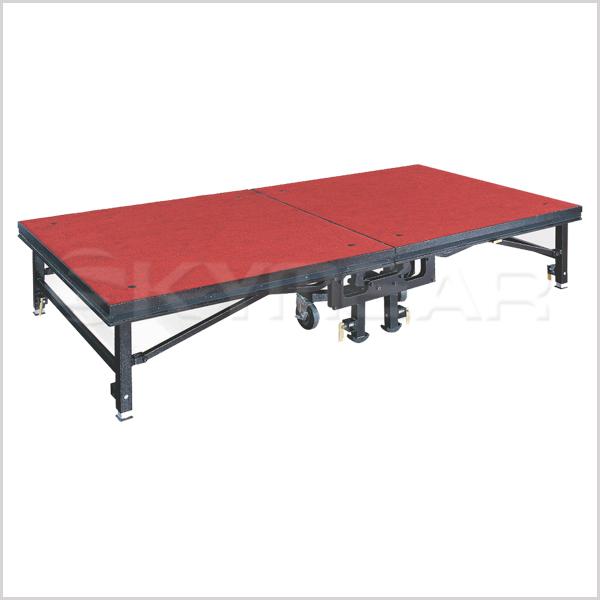 2. The stage is assembled. When assembling the stage at a high altitude, the load-bearing bracket must be set up first, and the bowl-type scaffolding is also used for erection. Especially in the process of assembly, it is necessary to use the set measurement mark as the basis. Track the whole process. However, uneven settlement of the various support frames can occur from time to time during the entire secondary Folding Stage installation. Therefore, when it is necessary to carry out level-by-level assembly, it is necessary to carefully set the technical measures for tracking measurement.
3. The large steel assembled stage, which is limited by the length of the transportation equipment and the site conditions, can only be produced in the factory. After pre-assembly, it is transported to the site and assembled. However, because there is a big difference between on-site open-air assembly and in-plant processing, it is also affected by weather, temperature, operating platform, welding equipment, welding consumables, and site. Therefore, in the steel assembled stage segment assembly, docking, installation sequence, welding quality, deformation control, shape size control, horizontal elevation, and verticality control all bring great difficulty to the field assembly of steel assembled stage.