How To Distinguish The Quality Of Aluminum Truss? 2
[2019-05-14]
I believe everyone knows that the stage aluminum truss plays a very important role in the stage construction. Therefore, the quality of the stage aluminum truss in the stage determines the safety of the stage construction and the stage effect of the user. So, how do we tell the quality of the stage aluminum truss? As an Aluminum Lighting Truss Expoter, we have the following recommendations.
First, check the appearance of Aluminum Stage Truss, a good quality production must be the process of appearance processing, the quality of the stage lighting frame should be silver-white and reflective, the poor stage truss is the opposite color, dim Color and so on.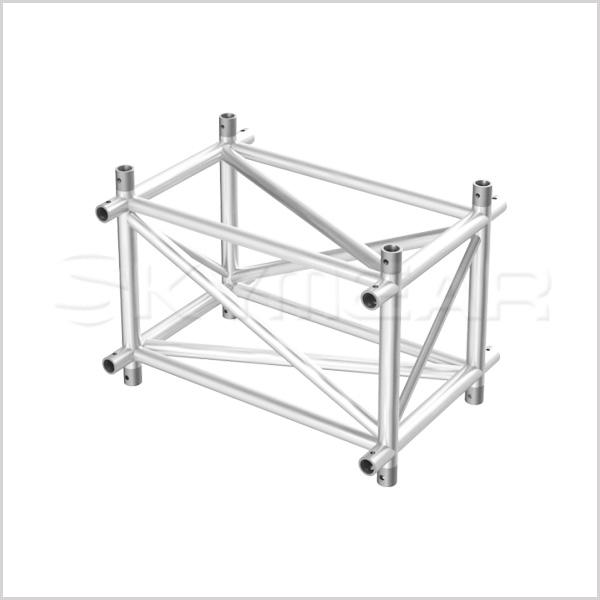 Second, to check the aesthetics of solder joints, one of the most important processes of Aluminum Stage Truss is welding. The quality of the welding process directly affects the stability of the truss. The solder joints of a good soldering process are relatively uniform, fine and beautiful. If the solder joints are large and small, and there are obvious solder holes, leakage soldering, etc., it is definitely inferior Aluminum Stage Truss.
Third, to check the size of the Aluminum Stage Truss, the screw truss depends on whether the hole position can be aligned, the plug truss should be checked to see if it can be installed. If the hole position is not correct, the bolt interface cannot be linked. Such a stage lighting frame is undoubtedly quite inferior.
Fourth, check the plane of the ends of the Aluminum Stage Truss. The flat ends of the good quality Aluminum Stage Truss are smoothed and polished. In the case of a company with imperfect craftsmanship, the grinding process may be eliminated, and the flat surfaces of the Aluminum Stage Truss are rough.